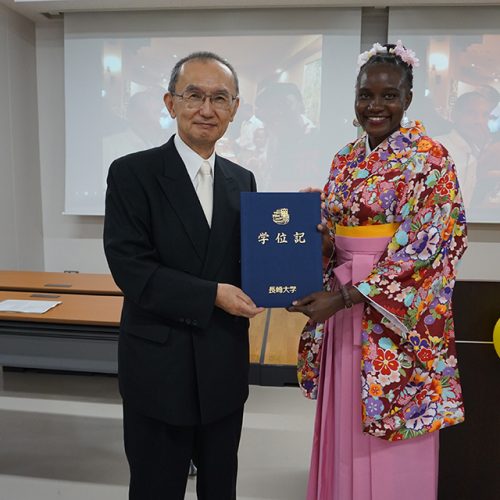 As a staff of Saraya Manufacturing (U) Ltd, I was informed about the ABE initiative program by the government of Japan. This program offers opportunities to young and eligible African men and women to study a master course at a Japanese University and to experience internships at Japanese enterprises. This opportunity motivated me to search for a university that offered a master course in Public Health and I identified Nagasaki University as my best option. Nagasaki University School of Tropical Medicine and Global Health (TMGH) was unique because of the collaboration they have with London School of Hygiene and Tropical Medicine, the curriculum also presented students with opportunity for field work, long term practicum and research at the end of the course.
My learning experience at School of TMGH was very interactive because of the diverse views from students coming from different countries from Africa and parts of Asia. This platform was beneficial for sharing views, ideas, and experiences about Public Health issues from different contexts. The school also provided additional lessons to students like presentation skills, English writing and searching for references which are very important for the final part of Master dissertation writing and defence. Furthermore, the lecturers were very supportive to the students through their dissertation writing.
The research skills obtained while at Nagasaki University has improved my sense of judgement regarding public health issues in my job as a hygiene manager with Saraya Manufacturing (U) ltd especially in the COVID 19 pandemic. I am currently working closely with the research team from World Health Organisation Collaborating Centre for Infection Prevention and Control (Where I did my long term practicum) to conduct research in Uganda.
Finally, I wish to acknowledge my lecturers, TMGH staff, Nagasaki University, Saraya company and Japan International Cooperation Agency for the all the financial and moral support.